Ciao!
From Italy with Love…and a lot of organic fruit! 🥑 🇮🇹
Orteat starts shipping organic products from its Italian farmers to some European countries.
Sorry if you find some Italian words or some mistakes, we are working on improving our International website.
In the meantime, we don't want you to lose the chance to try out our farmers' products!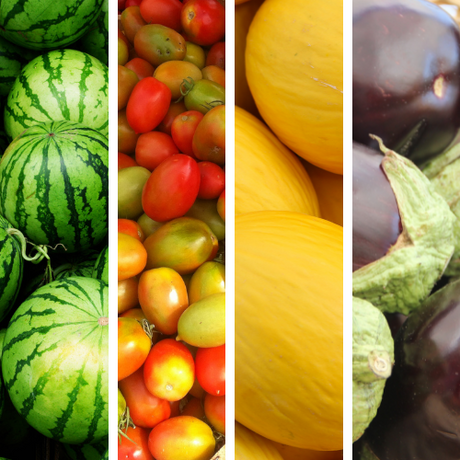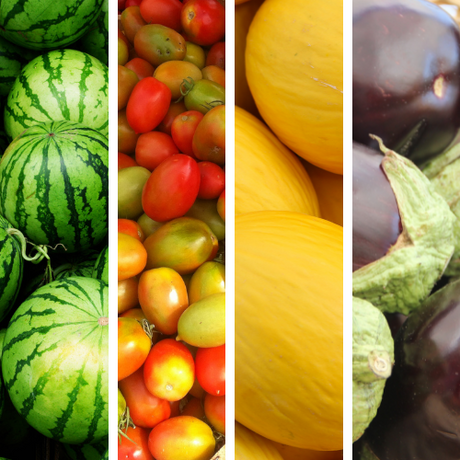 Cassetta Mista con Pomodori, Melanzane, Melone Giallo e Baby Anguria

La Cassetta Mista con Frutta e Verdura Biologica di Orteat


Tutto il meglio della Frutta e degli Ortaggi con la Cassetta Mista di Pomodori Datterini Gialli e Rossi, Melanzane, Melone Giallo e Baby Anguria di Orteat. 

Tre prodotti tutti da assaporare, dai dolcissimi pomodori, al gusto fresco delle melanzane passando per un must have dell'estate: l'anguria!

La Cassetta è composta da 1 Baby Anguria, 1 Melone Giallo, Pomodori Datterini e Melanzane.


La Cassetta Mista con Pomodori, Melanzane, Melone Giallo e Baby Anguria Biologica Italiana in vendita online su Orteat proviene dal nostro Agricoltore Antonio a Foggia, un territorio vocato alla coltivazione di ortaggi e frutti, qui i prodotti sono coltivati con metodo biologico e sostenibile totalmente a capo aperto.
Properties and nutritional values
I tre moschettieri della salute sono arrivati e sono pronti per darvi carica ed energia per affrontare la stagione estiva:

I Pomodori Datterini Gialli e Rossi sono composti al 94% di acqua, al 3% di carboidrati e al 2% di fibre e proteine. Sono anche ricchi di sali minerali come potassio e fosforo ed hanno anche una buona presenza di vitamina A e C.
L'apporto calorico è bassissimo, si aggira intorno alle 20 calorie per 100 grammi.

La Melanzana contiene tantissima acqua, circa il 93% della sua composizione è formata da acqua. Presenti anche carboidrati e fibre per circa il 2,6%.
Tra le altre componenti ci sono proteine, sali minerali, potassio, fosforo, sodio e vitamina C.

Il Cocomero o Anguria e il Melone Giallo vantano molte proprietà nutritive, sono composti prevalentemente da acqua e sono per questo ipocaloriche. Hanno un elevato contenuto di licopene, responsabile del colore rosso (la stessa sostanza che porta il medesimo colore ai pomodori).
Contengono inoltre vitamina A, B6 e C. Ha sali minerali quali potassio, fosforo e magnesio.

Benefits
I benefici sono altrettanti e tutti validi per la stagione estiva e per mantenerci freschi ed idratati. I Pomodori Datterini Gialli e Rossi hanno ottime proprietà diuretiche che favoriscono la perdita di liquidi in eccesso. Hanno proprietà antiradicaliche grazie alla presenza di licopene, un ottimo antiossidante responsabile del colore rosso. Contengono grandi quantità di potassio, vitamina e fosforo danno aiuto al processo di coagulazione del sangue e al mantenimento delle ossa forti.
Customer service
Siamo a disposizione per qualsiasi informazione o esigenza, dalla fase precedente all'acquisto fino al post vendita. Ci teniamo a garantire la massima tranquillità con il vostro ordine. E' possibile contattarci via email a info@orteat.com o telefonicamente (anche su WhatsApp) al 392.2012933.
Cassetta Mista con Pomodori, Melanzane, Melone Giallo e Baby Anguria

Produced by
Orteat
Orteat follows the course of nature and respects it. We don't like to import products from other countries, and we don't like using artificial techniques to extend their seasonality. Each product grows and matures at a given time of the year. If you can't wait to eat cassetta mista con pomodori, melanzane, melone giallo e baby anguria, the harvest will be in agosto
Frequently Asked Questions
When will I receive this product?
Products are shipped early in the week to ensure freshness and quality. You can read the estimated delivery date for each product within its tab.
What if there are problems with my order?
You can contact us for any need related to your order, as well as any other information, via email at info@orteat.com or by phone (including on WhatsApp) at 392.2012933.
What happens if I'm not home?
We will notify you to indicate when the courier will deliver our products, but if however you should not be at home, you will be contacted to arrange a second delivery.
I ordered 2 products but only received 1
To ensure a short supply chain, products are shipped directly from our farmers. This means that if you have purchased from different producers you will receive different shipments.
Can I change my delivery address?
Certainly, you can do it from your personal area, where you will find a summary of your data including the delivery address. However, the change does not apply to shipments on delivery.
How can I track the shipment
In the email that we sent you upon confirmation of shipment you will find all the references necessary to easily track the shipment and understand when it will be delivered.

-->